DNA Damage by Aromatic Amines - Are Arylamine Adducts responsible for the Induction of the Chemical Carcinogenesis?


Exposure to carcinogens can occur from environmental or work conditions, diet, smoking and endogenous processes. Poly- and monocyclic aromatic amines, e.g. aniline 1, p-toluidine 2, 4-aminobiphenyl 4 and 2-aminofluorene 6 (Figure 1), belong to the class of chemical carcinogens that form covalently bound adducts to the DNA double helix. Covalent damage of DNA (by electrophiles) may be one reason for the induction of chemical carcinogenesis because if these DNA damages are not repaired, they might compromise the fidelity of DNA replication which finally leads to mutations and possibly cancer.

Aromatic amines belong to the group of indirect carcinogens because they require a metabolic activation leading to the so-called ultimate carcinogen (Scheme 1). The initial step is an oxidation catalyzed by cytochrome P450 of the arylamine to the corresponding N-hydroxylamine, followed by esterification into an N-acetoxyarylamine by N-acetyl transferase (NAT) or into a sulfate by a sulfotransferase (ST) to give the ultimate carcinogens.




The predominant reaction of the arylnitrenium ion occurs at the C8-position of 2'-deoxyguanosine (dG) and, although to a smaller amount, 2'-deoxyadenosine (dA), leading to C8-adducts 7, 8 and 9, 10. Moreover, N2-adducts of dG 11, 13 and N6-ortho-arylamine adducts of dA 12 have been identified as minor products.

We are working on synthetic approaches to such nucleobase adducts using not only the borderline carcinogens, but also poly- and heterocyclic aromatic amines.
Key step in the chemical synthesis for most of these DNA adducts is a Pd-catalyzed C-N-bond formation reaction. Subsequently, these adducts were converted into the corresponding phosphoramidites.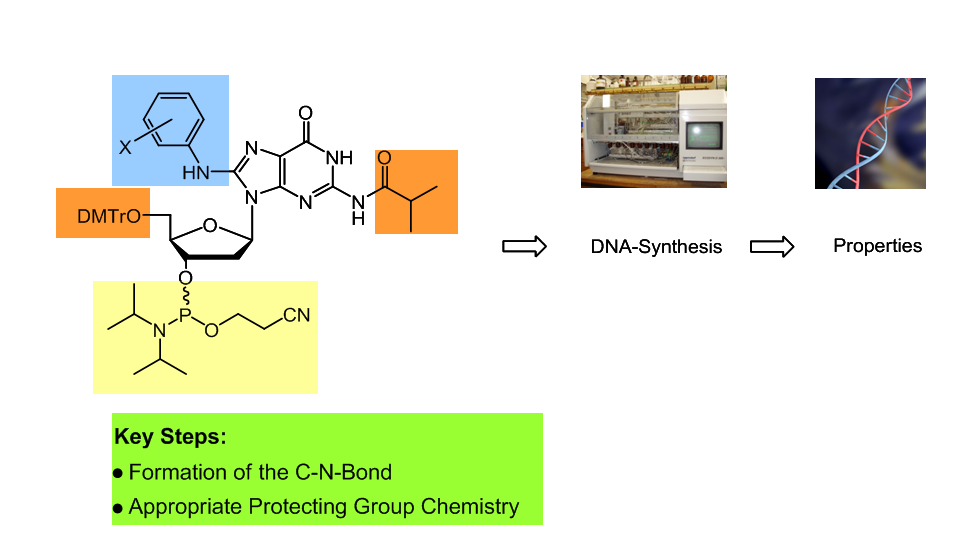 Primer-extension assays
DNA polymerase enzymes employ a number of innate fidelity mechanisms to ensure the faithful replication of the genome. However, when confronted with DNA damage, their fidelity mechanisms can be evaded, resulting in a mutation that may contribute to the carcinogenic process. These modified oligonucleotides are able to block DNA replication, occasionally bypassed and cause mutations if they are paired with an incorrect base.
EcoRI-Restriction assay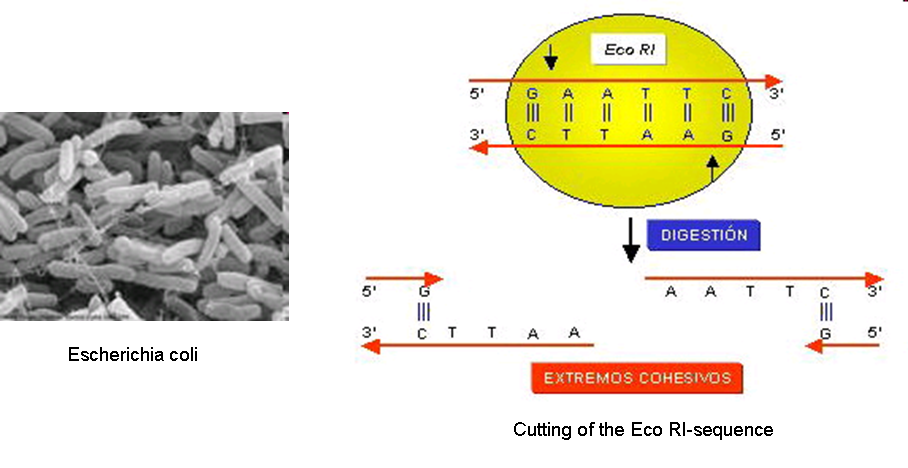 To investigate the impact on enzyme recognition of arylamine damaged oligonucleotides by an endonuclease, the EcoRI restriction enzyme was chosen. The nuclease EcoRI cleaves the self-complementary, 12-mer oligonucleotide into a 4-mer (GTAG) and an 8-mer strand (AATTCTAC). After site selective incorporation of various arylamine damages into the self-complementary sequence, restriction assays were performed and monitored by HPLC. The restriction was completely inhibited when the damaged nucleotide was located within the cleavage site.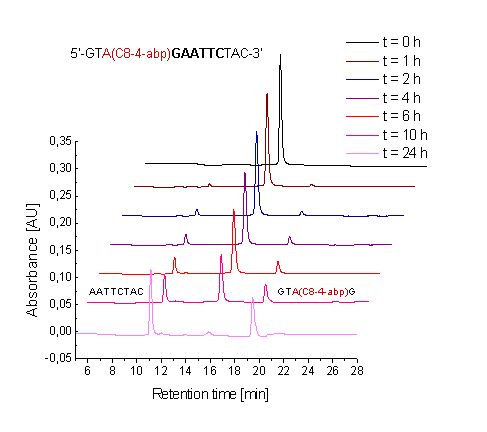 Crystals
In collaboration with the DESY (german electron-synchrotron) we investigate the crystallographic structure of our modified oligonucleotides on the basis of improvement of the buffer, pH-value and different counterions.
Selected Publications

C. Meier, S. Gräsl, Synlett 2002, 802-804.
C. Meier, S. Gräsl, I. Detmer , A. Marx Nucleosides, Nucleotides Nucleic Acids 2005, 24, 691-694.
N. Böge, S. Gräsl, C. Meier, J. Org. Chem. 2006, 71, 9728-9738.
M. I. Jacobsen, C. Meier, Synlett 2006, 2411-2414.
N. Böge, Z. Szombati, C. Meier, Nucleosides, Nucleotides Nucleic Acids 2007, 26, 705-708.
N. Böge, S. Krüger, M. Schröder, C. Meier, Synthesis 2007, 24, 3907-3914.
M. I. Jacobsen, C. Meier, Nucleosides, Nucleotides Nucleic Acids 2007, 26, 11217-1220.
N. Böge, M. Schröder, C. Meier, Synlett 2008, 1066-1070
N. Böge, M. I. Jacobsen, Z. Szombati, S. Baerns, F. Di Pasquale, A. Marx, C. Meier, Chem. Eur. J. 2008, 14, 11194-11208.Z. Szombati, S. Baerns, A. Marx, C. Meier, ChemBioChem 2012, 13, 700-712.
---