Polymer analytics
The analytical laboratories at the institute are strongly oriented towards polymer chemistry. We operate a variety of chromatographic measuring devices with different columns and eluents for the different types of polymers that are manufactured. We also use numerous spectrometers for online and offline measurements and thermal analysis. For further analysis tasks, the diverse analytical departments within the chemistry department are available.
1 von 5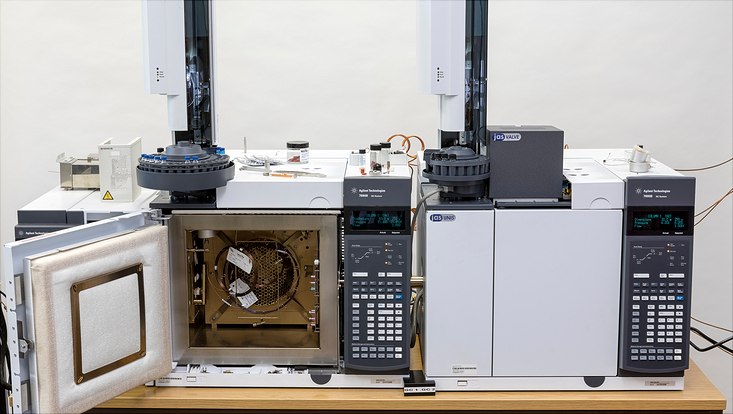 Photo: UHH/Mentz
Gas chromatography for the analysis of complex mixtures.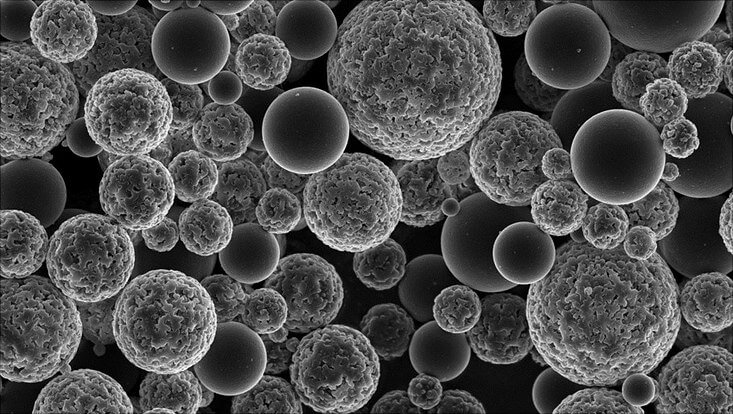 Photo: UHH/Walter, Scheliga
Self-made column material for SEC.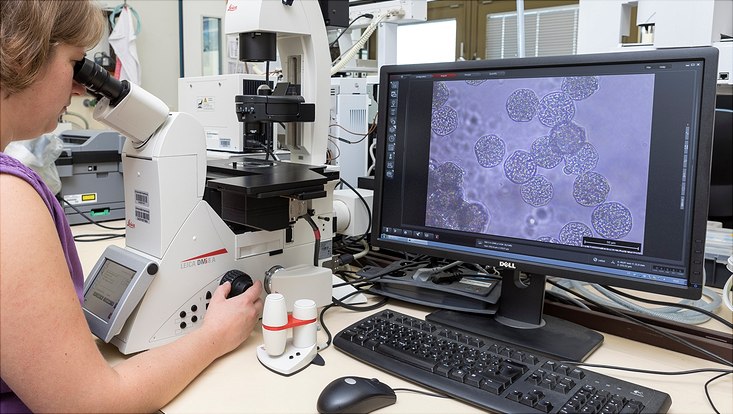 Photo: UHH/Mentz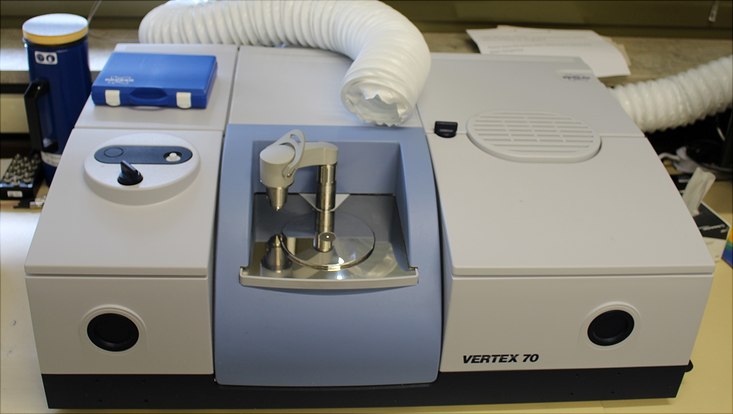 Photo: UHH/Meyer
FTIR spectrometer with ATR accessory.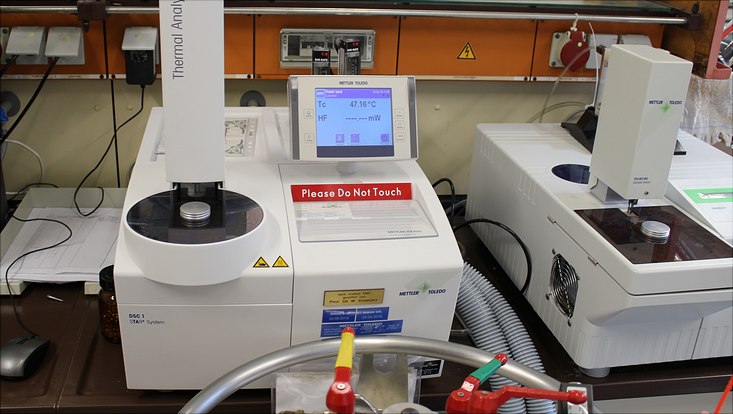 Photo: UHH/Meyer
Calorimetry to determine thermal propertes of the material.
Gaschromatography
The analytical laboratories are equipped with a large number of gas chromatographs for the analysis of complex mixtures. Product mixtures are analyzed or the residual monomer content is determined. An overview of the analysis spectrum is given below.
Agilent 5977 A Series GC/MSD System
GC-MSD/FID/WLD
chemical Ionization (CI) source
Split/Splitless, PTV, on-Column injection
Heart cutting option via Dean Switch
optional double oven setup
high-temperature option up to 430 °C
SimDist analysis
GCxGC-FID
Size-Exclusion-Chromatography (SEC)
A large number of GPC systems, operated with different solvents and equipped with several detectors, are available for the determination of the molar mass and molar mass distribution of the polymers. Thus, for example, a high-temperature GPC with trichlorobenzene is operated at 135°C for the analysis of polyolefins. The parameters and detectors shown in the following table are used in routine measurements. Herrn Dr. Scheliga will be pleased to help you with special or detailed issues.
| | | |
| --- | --- | --- |
| Eluents | Temperature | Detectors |
| Tetrahydrofuran (THF) | RT | RI/UV |
| Chloroform | RT | RI |
| Dimethylformamide (DMF) | 60 °C | RI |
| Trichlorbenzene (TBC) | 135 °C | RI/Visc. |
| Hexafluoroisopropanol (HFIP) | 60 °C | RI/UV |
Self-made column material
The column material for special issues is produced directly at the institute. Thus, a column material can be used, which shows a good separation behavior over a very large molar mass range. For this purpose, a targeted combination of materials with a uniform pore size distribution in the range from 100 Å to 100,000 Å was developed.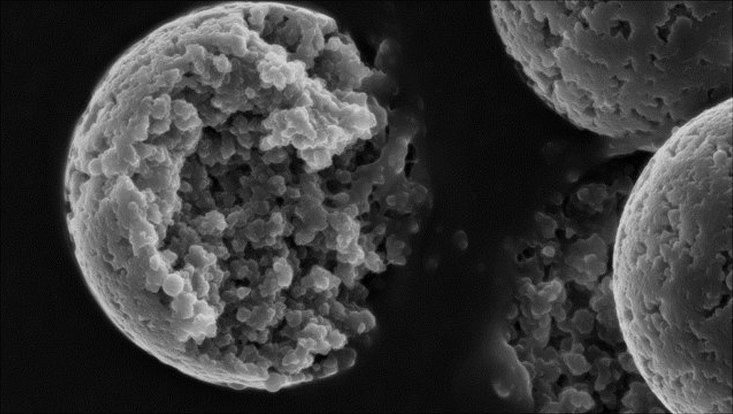 The styrene-divinylbenzene particles used are obtained in monodisperse form by means of seed polymerization.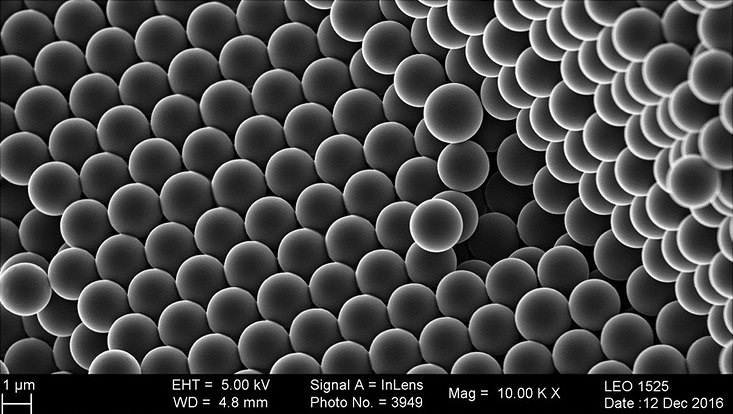 Spectroscopy
Spectroscopic methods are used to determine functional groups and to monitor the reaction. The latter can be done online with the ReactIR in the reaction medium. Additional spectrometers are available at the department, for example in the  NMR and MS department.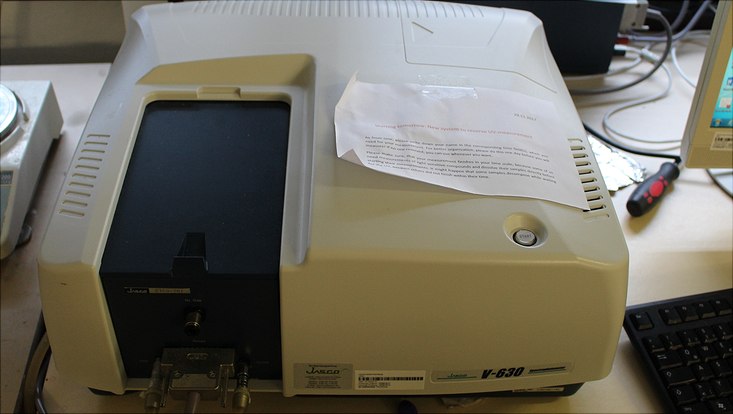 | | | |
| --- | --- | --- |
| | Bruker Vertex 70 | Jasco V-630 |
| Measuring range | 6000-120 cm-1 | 350-800 nm |
| Measurement method | ATR, 80° Reflection, KBr-Compacts | ATR |
| Detectors | TGS, MCT | |
Thermal analysis
The thermal behavior of the samples is analyzed using DSC (dynamic scanning calorimetry) and TGA (thermogravimetric analysis). This is how temperature-induced processes, such as phase changes or transfer processes, can be determined. Issues regarding working temperatures, processing conditions, glass transition and reactivity are typically investigated using DSC. TGA typically determines the content of volatile substances (e.g., solvents or residual monomers), filler contents, the thermal stability or the kinetics of transfer processes.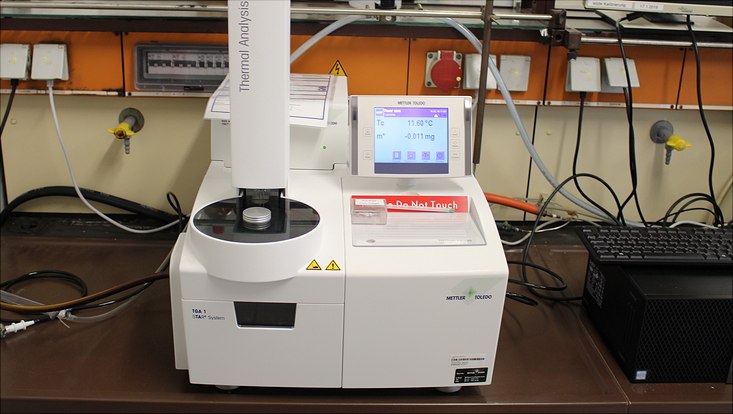 Mettler Toledo DSC 1               Mettler Toledo TGA 1
Highest sensitivity

Temperature range     -150 bis 500 °C                   RT bis 1100 °C
---