About the Institute
The Hamburg School of Food Science—Institute for Food Chemistry primarily works to develop analytical methods. Its research centers on the understanding of chemical, biochemical, and nutritional processes as well as questions of authenticity, such as geographical origin, biological identity, and chemical composition in general. Aspects of food technology along the supply chain are also addressed (from farm to food function).
Another focus is food microbiology and biotechnology. Special attention is paid to fermentation processes for the manufacture and nutritional enhancement of foodstuffs as well as the processing of food waste.
The history of the institute
The history can be divided into 6 key periods:
Otto Stern was head of the independent Institute of Physical Chemistry
1613–1837
Akademisches Gymnasium with chemistry as just a small component of the natural sciences
1837–1883
Akademisches Gymnasium with chemistry as a stand-alone subject, strongly influenced by Karl Wiebel
1878–1921
Chemisches Staatslaboratorium, greatly influenced by Ferdinand Wibel, and Max Dennstedt
1919–1945
Chemisches Staatsinstitut at Universität Hamburg until the end of the Second World War, influenced by Paul Rabe, Heinrich Remy, and Heinrich Schlubach
1945–1969
Chemisches Staatsinstitut at Universität Hamburg, influenced by Kurt Heyns and Heinrich Remy
1969 onwards
Department of Chemistry at Universität Hamburg, influenced by Kurt Heyns, Reinhard Nast, Hansjörg Sinn, and Wolf Walter
2010
Founding of the Food & Health Academy (FHA)
2011
Founding of the Hamburg School of Food Science (HSFS)
Since 2019
Excellence Initiative Artefact Profiling
Originally, chemistry was not a stand-alone discipline but only a component part of the natural sciences. Joachim Jungius, professor of physics and logic from 1629–1657, studied atomism and thus contributed to the establishment of chemistry as a natural science. In his dissertation "Doxoscopiae Physicae Minores" he repudiated the 4 elements of antiquity (fire, earth, air and water) and the 3 from alchemy (mercury, sulfur and salt) and defined chemical elements as pure substances, which could not be broken down into any further component parts. He thus also contradicted the alchemists' idea of transmuting base metals into gold.
With the appointment of Karl Wiebel, chemistry then became an independent discipline. He also set up a chemical laboratory, which was increasingly entrusted with new tasks. In 1878 this laboratory of the Akademisches Gymnasium was transformed into the independent "Chemisches Staatslaboratorium". The Gymnasium itself was dissolved shortly afterwards.
In the early stages, chemists were all-rounders who worked in all fields of chemistry. At this time, the focus was not on independent research but rather on the provision of analytical services for the city authorities and courts. From their research topics, Karl Wiebel and Ferdinand Wibel can be more closely associated with inorganic chemistry, Max Dennstedt and Paul Rabe with organic chemistry.
Former heads of the  "Chemisches Staatslaboratoriums":
| | |
| --- | --- |
| 1878-1893 | Ferdinand Wibel |
| 1893 | Adolf Engelbrecht (representatively) |
| 1893-1910 | Max Dennstedt |
| 1911-1914 | Felix Voigtländer (representatively) |
| 1914-1921 | Paul Rabe |
After the foundation of the University of Hamburg, a department of inorganic chemistry was established. The first director, Fritz Paneth, remained in Hamburg for only 3 years in the founding phase. The department was shaped by the successor Heinrich Remy.
The official predecessor of the University of Hamburg was the "Kolonialinstitut" (Colonial Institute, 1908-1919). At first, chemistry was not even represented here, as its economic importance for German colonies was considered to be low. In 1914, Paul Rabe also became a member of the professorial council of the Kolonialinstitut and gave lectures there. Bertha Bessmertny-Heimann, Ehrenstein, Gillmeister, Göhlich, and Voigtländer were later also involved in lectures. Chemistry had been involved in the general lecture system (1764-today) since the time of Karl Wiebel, i.e. also during the time of the Kolonialinstitut.
The "Staatshüttenlaboratorium der Freien und Hansestadt Hamburg," (State Metallurgical Laboratory of the Free and Hanseatic City of Hamburg), an internationally active laboratory for arbitration analyses of ores and metallurgical products, which was founded in 1893 as a subunit of the Hamburg Mint, was also part of the Institute of Inorganic and Applied Chemistry at the University of Hamburg from 1984 to 1991. On 1 September 1991 it was transformed into the " Institut für Angewandte Analytik" (Institute for Applied Analytics (IFAA GmbH) Hamburg,) which was dissolved in the mid-1990s.
Doctorates in Hamburg were only possible after the foundation of the university. Thus there are many students of Paul Rabe, but no official students of Karl Wiebel, Ferdinand Wibel or Max Dennstedt. But there seem to be predecessors here: Scientists who did research in Hamburg and then presented their doctorates in Göttingen or Kiel. For example, Ernst Brackebusch, a student of Ferdinand Wibel, did his doctorate in Göttingen, and Emil Sommer, a student of Max Dennstedt, in Kiel.
Some kinship relationships are worth mentioning. Although the surname seems to be different, Ferdinand Wibel is the son of Karl Wiebel. Some scientists have the same name, so confusion is possible. For example, there is a professor Jürgen Voß in organic chemistry and a doctoral student of the same name in inorganic chemistry. One of the first students of Paul Rabe was also called Paul Rabe. However, his doctoral thesis does not give any indication of possible relationships. At least it is not a father-son relationship.
There were also important discoveries in inorganic chemistry in Hamburg - outside the university:
For example, the alchemist Hennig Brand discovered the chemical element phosphorus in Hamburg around 1669. Actually, he wanted to extract the philosopher's stone from urine and then use it to make gold.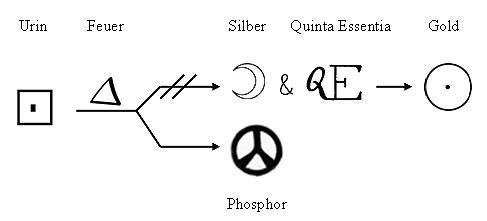 Chemical explanation: The urine was first evaporated to dryness in a retort and then "dry distilled". The coal produced from the organic components reduces the calcium phosphate contained in the urine to phosphorus, which is distilled off, sublimates on the cooler parts of the retort, and forms phosphorus oxides when it comes into contact with atmospheric oxygen, which glows. The symbols for urine, fire, silver, the Quinta Essentia and gold are ancient alchemical symbols, the symbol for phosphorus comes from Dalton's Table of the Elements. (Text and drawing: D. Rehder)]
In the same century (1663?) also occurred the discovery of Cassius' gold purple, a colour pigment with colloidal (=nano-structured) gold, by the physician Andreas Cassius, who later also worked in Hamburg.
In 1846 the pharmacist Georg Ludwig Ulex discovered the mineral struvite during excavations under the church of St. Nikolai in Hamburg. It was named after Heinrich Christoph Gottfried von Struve.
---