Prof. Dr. Alf Mews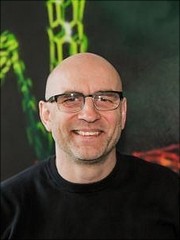 Photo: Alf Mews
Head of Group
RG Mews
Address
Universität Hamburg
Department of Chemistry
Institute of Physical Chemistry
Research Group Mews
Grindelallee 117
20146 Hamburg
Office
Room: VGII 246a
Contact
Fax: +49 40 42838-7727
Key aspects of activity
Investigation of the nucleation and growth processes of
of colloidal nanoparticles
Structure determination of nanoscopic systems
by X-ray diffraction
Atomic models of nanoscopic systems based on
of high-resolution electron microscopy
Determination of the attachment and
uptake mechanisms of nanoparticles in biological
biological cells by microscopic studies
Determination of structure-property relationships
by combination of different
microscopy methods
Synthesis of semiconductor nanorods, nanowires and nanoplatelets
Entwicklung oberflächenmodifizerter Goldcluster
Herstellung von Metall-Halbleiter-Hybridstrukturen
Gasphasensynthese von Nanostrukturen auf
Substraten
Biofunktionalisierung von Nanopartikeln für die
Medizinische Diagnostik
Academic Career
Alf Mews studied chemical engineering in Aachen (Diploma in 1988) and Chemistry in Siegen (Diploma in 1992) after which he joined the group of Prof. Horst Weller at the Hahn-Meitner-Institute in Berlin.
In 1994 he received his PhD in the preparation of semiconductor nanocrystals.
He took a DFG fellowship in 1995 to work on different spectroscopic techniques in the group of Prof. Paul Alivisatos in Berkeley, California.
In 1996 he moved to Munich to work on single molecule spectroscopy in the group of Prof. Christian Bräuchle.
In 1997 he joined the group of Prof. Thomas Basché in Mainz where he finished his Habilitation in 2003 entitled: "Investigation of nano structures with microscopic methods: Material science on the nanometer scale".
In 2004 he was appointed to a full professorship for Physical Chemistry at the University of Siegen.
In 2008 he moved to the University of Hamburg.