Research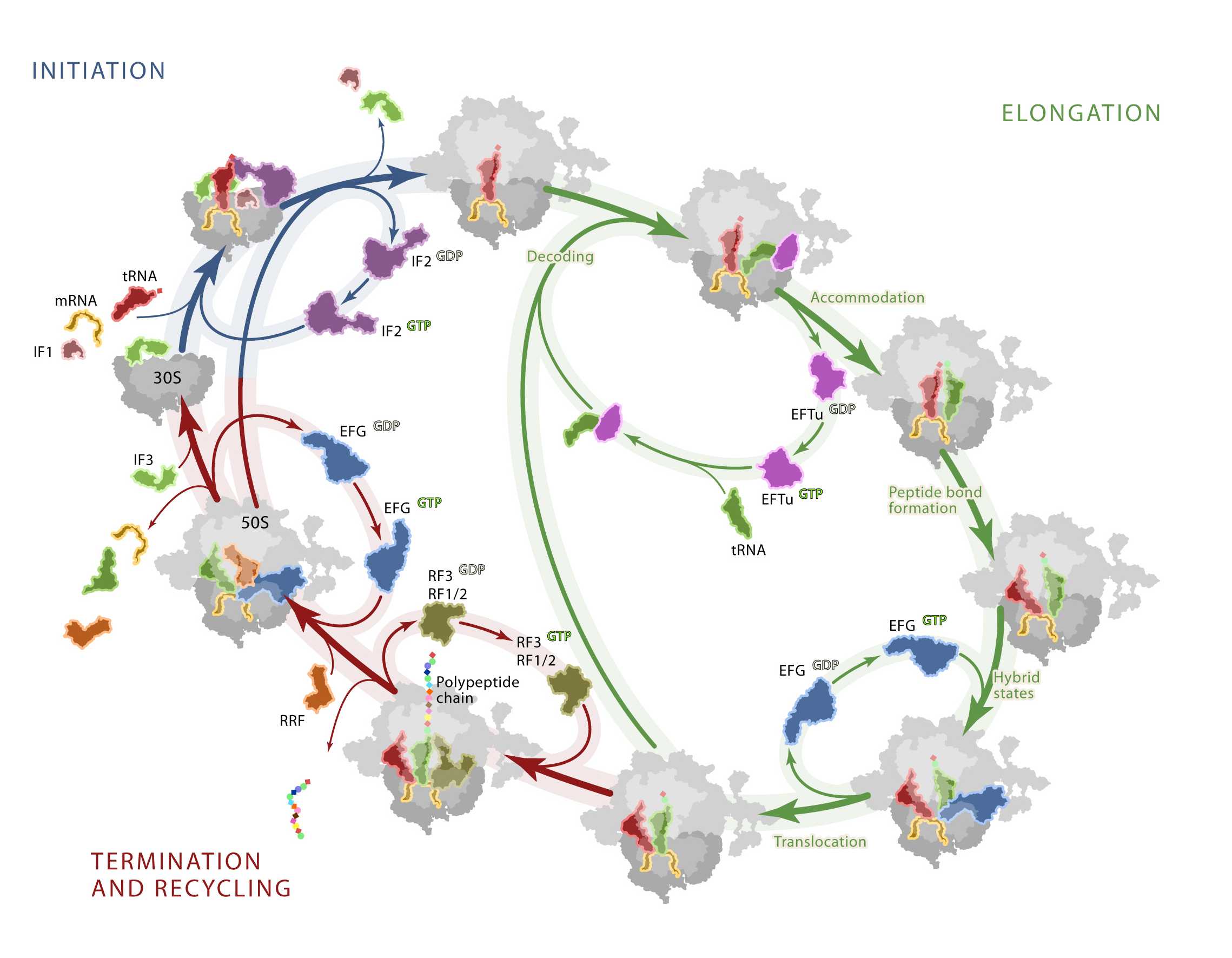 The translation machinery is responsible for the accurate conversion of the genetic information within messenger RNA (mRNA) into a corresponding polypeptide sequence. The ribosome provides the platform on which the mRNA is recognized and "decoded" by transfer RNAs (tRNAs). The process of translation occurs in four principal stages: initiation, elongation, termination and recycling. The process of initiation, facilitated by initiation factors, places the unique initiator fMet-tRNAfMet at the P site of the ribosome where it is interacts with the start codon of the mRNA. Following initiation, ribosomes enter into the elongation phase of protein synthesis. Elongation lies at the heart of protein synthesis and involves the entry and movement of tRNAs through the three tRNA binding sites (A → P → E) of the ribosome in a cyclic fashion. The number of elongation cycles is dictated by the length of the ORF and the polypeptide being synthesized. During elongation, aa-tRNAs are selected by the ribosome according to the mRNA codon presented at the A-site of the 30S subunit A site, in a process referred to as decoding. The delivery of the aa-tRNAs is a multistep, induced fit process that is facilitated by elongation factor Tu (EF-Tu) and utilizes GTP hydrolysis. Complementary base-pairing interactions between the tRNA anticodon and mRNA codon stimulates EF-Tu to hydrolyse GTP and dissociate from the ribosome, allowing aa-tRNA to fully accommodate into the PTC. Peptide-bond formation occurs between adjacently bound peptidyl- and aminoacyl-tRNAs and transfers the growing polypeptide chain from P-site tRNA to A-site tRNA, leaving deacylated-tRNA in the P site. This ribosomal state, referred to as the pre-translocation complex (PRE state), is highly dynamic in nature. In this complex, A- and P-site tRNAs reversibly oscillate between classically-defined A/A and P/P configurations and so-called hybrid states (A/P, P/E) wherein the 3'-CCA ends of both tRNAs move with respect to the large subunit while remaining relatively fixed with respect to the small subunit. The elongation cycle progresses by the translocation of A- and P-site tRNAs with respect to the small subunit. This complex multistep process, mediated by elongation factor-G (EF-G) catalyzed GTP hydrolysis, moves the mRNA-tRNA2 complex into the P- and E-sites. In so doing, a post-translocation complex (POST state) is formed, and the next downstream mRNA codon enters the A site. As repetitive elongation cycles continue, with the ribosome alternating between globally distinct PRE and POST states, the nascent polypeptide chain passes through a tunnel in the large ribosomal subunit and emerges into the cytoplasm where protein folding takes place. When a stop codon of the mRNA ORF enters into the A-site, the ribosome diverts into the termination phase. Here protein release factors specifically recognize the stop codon and mediate water-catalyzed hydrolysis of the nascent peptide from P-site tRNA. The ribosomal subunits are then separated from deacylated tRNA and mRNA through a multistep, factor-mediated process termed recycling.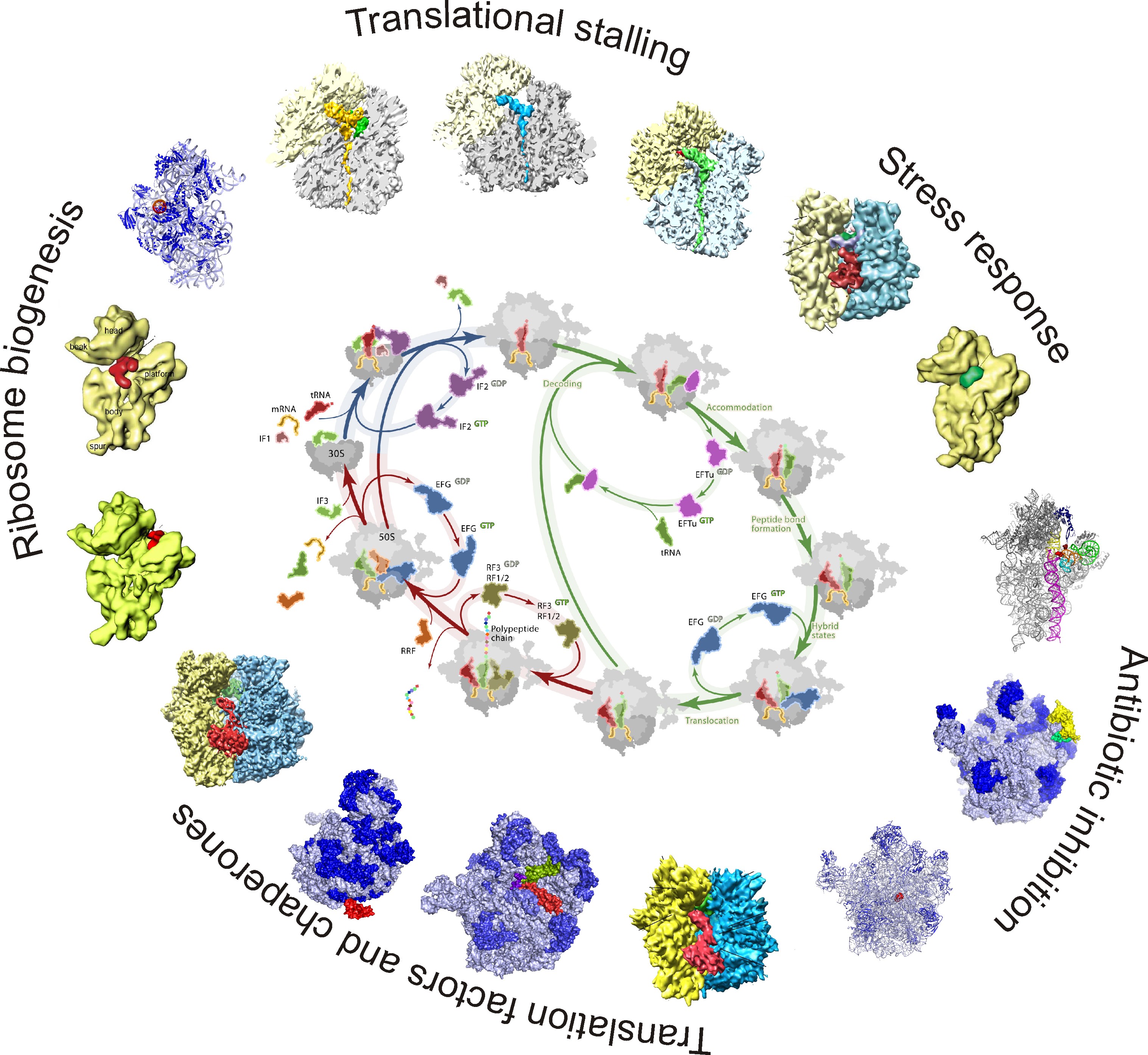 The goal of our research is to understand at a molecular level how the ribosome and protein synthesis are regulated in the cell. This is achieved by using a combination of biochemical and structural analysis (cryo-electron microscopy).
Current projects in the laboratory are related to the following specific topics:
Regulation of translation by nascent polypeptide mediated stalling
A number of leader peptides induce translational stalling to regulate translation of a downstream gene. For example, stalling during translation of the tnaC causes the ribosome to block the binding sites for the Rho transcription terminator, leading to transcription and thus translation of the downstream tnaAB genes. Similarly, stalling during translation of secM, mifM, ermCL and catA86L also leads to up-regulation of their respective downstream genes. In these cases, however, the stalled ribosome induces a conformational rearrangement in the mRNA that exposes the Shine-Dalgarno sequence, which in turn allows ribosome binding and subsequent translation of the downstream genes. In contrast, stalling during translation of the eukaryotic upstream open reading frames (uORFs) leads to repression, rather then up-regulation, of the fungal arg2/CPA1 and human cytomegalovirus (hCMV) gp48 genes. The stalling capability of leader peptides can be intrinsic to the peptide sequences, as seen for the SecM, MifM or hCMV gp24 leader peptides, or require additional extrinsic co-effector molecules, such as free amino acids or antibiotics. For example, TnaC stalling requires high levels of free tryptophan, which leads to up-regulation of the tryptophanase TnaA and a tryptophan-specific permease TnaB. Likewise, antibiotic-induced stalling leads to up-regulation of antibiotic resistance genes, for example, erythromycin-induced ErmCL stalling leads to up-regulation of ErmC, a methyltransferase that confers macrolide resistance by modifying the large subunit ribosomal RNA (rRNA). We are interested in structurally analyzing ribosomes stalled during translation of such nascent polypeptide chains in order to understand how the interaction between the nascent chain and the ribosomal tunnel causes translation arrest.
Selected Publications:
1. Drug Sensing by the Ribosome Induces Translational Arrest via Active Site Perturbation. Stefan Arenz, Sezen Meydan, Agata L. Starosta, Otto Berninghausen, Roland Beckmann, Nora Vázquez-Laslop, Daniel N. Wilson. Molecular Cell 56, 446-452 (2014)
2. A combined cryo-EM and molecular dynamics approach reveals the mechanism of ErmBL-mediated translation arrest. Stefan Arenz, Lars V. Bock, Michael Graf, C. Axel Innis, Roland Beckmann, Helmut Grubmüller, Andrea C. Vaiana, Daniel N. Wilson. Nature Communications 7, 12026 (2016)
3. The force-sensing peptide VemP employs extreme compaction and secondary structure formation to induce ribosomal stalling. Ting Su, Jingdong Cheng, Daniel Sohmen, Rickard Hedman, Otto Berninghausen, Gunnar von Heijne, Daniel N. Wilson, Roland Beckmann. eLife 6, e25642 (2017)
4. Translation regulation via nascent polypeptide-mediated ribosome stalling. Daniel N. Wilson, Stefan Arenz, Roland Beckmann. Current Opinion in Structural Biology 37, 123-133 (2016)
Translation response to environmental stress
Additional factors and regulation systems appear to be particularly important for efficient translation in response to changes in environmental conditions. Many have been well-characterized systems include the RelA-mediated stringent response, ArfA, ArfB and tmRNA-mediated rescue systems that are activated in response to nutrient deprivation. In addition numerous factors bind and protect the ribosome upon entering stationary phase, such as RMF, SRA, YfiA and YhbH, or under conditions of cold shock and shifts in pH and/or ionic strength, such as protein Y and LepA, respectively. Indeed, elongation factor P (EFP) has been shown to be important for virulence in Salmonella enterica, suggesting that insight into how such factors interact with the ribosome to modulate translation could have important implications for development of novel antimicrobial agents. The Wilson lab is currently investigating the mechanistic link by which binding of factors to the ribosome can influence translation in response to a variety of different stress conditions, ranging from antibiotic sensitivity to nutrient deprivation.
Selected Publications:
1. Structure of the Bacillus subtilis hibernating 100S ribosome reveals the basis for 70S dimerization. Bertrand Beckert, Maha Abdelshahid, Heinrich Schäfer, Wieland Steinchen, Stefan Arenz, Otto Berninghausen, Roland Beckmann, Gert Bange, Kürsad Turgay, Daniel N. Wilson. EMBO Journal 36, 2061-2072 (2017).
2. Structural Basis for Polyproline-Mediated Ribosome Stalling and Rescue by the Translation Elongation Factor EF-P. Paul Huter, Stefan Arenz, Lars V. Bock, Michael Graf, Jan Ole Frister, André Heuer, Lauri Peil, Agata L. Starosta, Ingo Wohlgemuth, Frank Peske, Jirí Novácek, Otto Berninghausen, Helmut Grubmüller, Tanel Tenson, Roland Beckmann, Marina V. Rodnina, Andrea C. Vaiana, Daniel N. Wilson. Molecular Cell 68, 515-527 (2017)
3. Structural basis for ArfA-RF2-mediated translation termination on mRNAs lacking stop codons. Paul Huter, Claudia Müller, Bertrand Beckert, Stefan Arenz, Otto Berninghausen, Roland Beckmann, Daniel N. Wilson. Nature 541, 546-549 (2017).
4. Structural Basis for Ribosome Rescue in Bacteria. Paul Huter, Claudia Müller, Stefan Arenz, Bertrand Beckert, Daniel N. Wilson. Trends in Biochemical Sciences 42, 669-680 (2017).
5. The stringent factor RelA adopts an open conformation on the ribosome to stimulate ppGpp synthesis. Stefan Arenz, Maha Abdelshahid, Daniel Sohmen, Agata L. Starosta, Otto Berninghausen, Roshani Payoe, Vasili Hauryliuk, Roland Beckmann, Daniel N. Wilson. Nucleic Acids Research 44, 6471-6481 (2016).
Factor mediated regulation of ribosome biogenesis
In bacteria, the 70S ribosome is composed of two subunits, a small 30S subunit and a large 50S subunit. Each subunit is composed of ribosomal RNA and ribosomal proteins. In E. coli for example, the 30S subunit contains a single 1542 nucleotide (nt) 16S rRNA and 21 small subunit r-proteins, whereas the 50S subunit contains two RNAs, a 115 nt 5S rRNA and 2904 nt 23S rRNA, together with 33 large subunit r-proteins. The synthesis of ribosomes is one of the major tasks of the cell, particularly in actively growing bacteria, where ribosomes can constitute up to 30 % of the dry mass of the cell, whereas in eukaryotes they represent no more than 5 %. Therefore the ability to rapidly regulate the synthesis of nascent ribosomal particles provides an important advantage to the cell. Thus, one of the challenges for the E. coli cell is to coordinate both the synthesis of r-proteins and rRNA as well as the binding of the >50 r-proteins to the >4500 nts rRNA in the correct manner and order to ensure formation of active particles. Although bacterial ribosomal subunits can be reconstituted in vitro from purified rRNA and r-protein components, the conditions required to do this, namely high magnesium and long incubations at elevated temperatures, are far from physiological. Instead, in vivo a plethora of protein factors are involved to facilitate the assembly process. In bacteria, a number of protein factors have been identified that are involved in processing, such as RNases and helicases, or modification of the ribosomal components by methylases, acetylases and pseudouridinylases, however accumulating evidence suggests that there are in fact many more protein factors that appear to be directly involved in the assembly process. These include factors that bind to the small 30S subunit, such as RimM, RbfA, Era, as well as to the large 50S ribosomal subunit, including Obg, Der and YlqF. The Wilson group is interested in structurally characterizing the interaction of these factors with the ribosome and understanding how they facilitate assembly of the respective ribosomal particle. Moreover, since many of these factors appear to be highly conserved and in many cases specific for bacteria, they are considered as emerging targets for new antimicrobial drugs.
Selected Publications:
1. The weird and wonderful world of bacterial ribosome regulation. Daniel N. Wilson, Knud H. Nierhaus. Critical Reviews in Biochemistry and Molecular Biology 42, 187-219 (2007)
2. Structural aspects of RbfA action during small ribosomal subunit assembly. Partha P. Datta, Daniel N. Wilson, Masahito Kawazoe, Neil K. Swami, Tatsuya Kaminishi, Manjuli R. Sharma, Timothy M. Booth, Chie Takemoto, Paola Fucini, Shigeyuki Yokoyama, Rajendra K. Agrawal. Molecular Cell 28, 434-445 (2007).
3. Interaction of Era with the 30S ribosomal subunit: Implications for 30S subunit assembly. Manjuli R. Sharma, Chandana Barat, Daniel N. Wilson, Timothy M. Booth, Masahito Kawazoe, Chie Hori-Takemoto, Mikako Shirouzu, Shigeyuki Yokoyama, Paola Fucini, Rajendra K. Agrawal. Molecular Cell 18, 319-329 (2005).
4. ERA protein binds in a functionally important region of the 30S ribosomal subunit. Manjuli R. Sharma, Chandana Barat, Daniel N. Wilson, Chie Takemoto, Timothy M. Booth, Shigeyuki Yokoyama, Paola Fucini, Rajendra K. Agrawal. Biophysical Journal 86, 316A-317A (2004)
Small molecule inhibition of ribosome function
Protein synthesis is a key target for antibiotic-mediated regulation. In fact, antibiotics have been identified that inhibit almost every step of the translation cycle. Today, all major classes of ribosome-targeting antibiotics have been visualized in complex with a ribosomal particle, which together with a plethora of biochemical studies, have provided not only insight into the mechanism of inhibition of the antibiotic, but also an in-depth understanding of the fundamental process of protein synthesis. However, the prevalence of antibiotic-resistant strains of pathogenic bacteria within the clinical setting is ever-increasing, prompting the need for the development of novel and more potent antibiotics. Following the introduction of the quinolones (ciprofloxacin) and streptogramins (Synercid) into clinical practice the early 1960's, only three truly new classes of antibiotics have followed in the subsequent ~50 years; the oxazolidinones (linezolid, 2000), lipopeptides (daptomycin, 2003) and most recently the pleuromutilins (retapamulin, 2007). Nevertheless, in the intervening years a number of new semi-synthetic derivatives have been developed based on the original natural parent compound, for example, telithromycin from erythromycin and tigecycline from tetracycline. These second and third generation antibiotics display improved activity against some multi-drug resistant pathogenic strains, while still utilizing the same core scaffold and binding site as the original parent compound and are thus ultimately vulnerable to some level of cross-resistance. Recent studies have demonstrated that a subset of proline-rich antimicrobial peptides (PrAMPs) also inhibit translation by binding to the ribosome. Two distinct mechanism of action exist to date; (i) PrAMPs that allow initiation but inhibit the transition into the elongation phase, as illustrated by the oncocins and bactenecin-7, and (ii) PrAMPs that allow initiation and elongataion of translation but inhibit termination by preventing the dissociation of release factors from the ribosome following peptidyl-tRNA hydrolysis, as seen for example, by apidaecins.
The Wilson group is interested in structurally and chemically characterizing the interaction of antibiotics and other small molecule inhibitors with the ribosome and identifying the functional states of the ribosome that are targeted by different compounds. Ultimately, an understanding of the mode of interaction of inhibitors with the ribosome will enables the development of new improved antimicrobial agents that can overcome multi-drug resistant bacteria.
Selected Publications:
1. Proline-rich antimicrobial peptides targeting protein synthesis. Michael Graf, Mario Mardirossian, Fabian Nguyen, A. Carolin Seefeldt, Gilles Guichard, Marco Scocchi, C. Axel Innis, Daniel N. Wilson. Natural Product Reports 34, 702-711 (2017)
2. An antimicrobial peptide that inhibits translation by trapping release factors on the ribosome. Tanja Florin, Cristina Maracci, Michael Graf, Prajwal Karki, Dorota Klepacki, Otto Berninghausen, Roland Beckmann, Nora Vázquez-Laslop, Daniel N. Wilson, Marina V. Rodnina, Alexander S. Mankin. Nature Structural & Molecular Biology 24, 752-757 (2017).
3. Blast from the Past: Reassessing forgotten translation inhibitors, antibiotic selectivity, and resistance mechanisms to aid drug development. Stefan Arenz, Daniel N. Wilson. Molecular Cell 61, 3-14 (2016).
4. Structures of the orthosomycin antibiotics avilamycin and evernimicin in complex with the bacterial 70S ribosome. Stefan Arenz, Manuel F. Juette, Michael Graf, Fabian Nguyen, Paul Huter, Yury S. Polikanov, Scott C. Blanchard, Daniel N. Wilson. Proceedings of the National Academy of Sciences of the United States of America 113, 7527-7532 (2016).
5. Distinct tRNA Accommodation Intermediates Observed on the Ribosome with the Antibiotics Hygromycin A and A201A. Yury S. Polikanov, Agata L. Starosta, Manuel F. Juette, Roger B. Altman, Daniel S. Terry, Wanli Lu, Benjamin J. Burnett, George P. Dinos, Kevin A. Reynolds, Scott C. Blanchard, Thomas A. Steitz, Daniel N. Wilson. Molecular Cell 58, 832-844 (2015)
6. Ribosome-targeting antibiotics and mechanisms of bacterial resistance. Daniel N. Wilson. Nature Reviews Microbiology 12, 35-48 (2014)
---