Poster Printing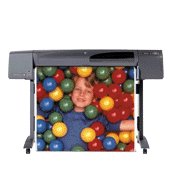 For printing of posters the following equipment is available:
DIN-A0-Plotter (HP DesignJet Z5600)
Laminating machine (up to DIN A0+)
cutting table
Poster files to be printed should be sent to posterdruck@chemie.uni-hamburg.de(posterdruck"AT"chemie.uni-hamburg.de?Subject:Posterdruck).
Please tell us, if the poster should be laminated and explictly specify the requested page size (A0, A1, A2, ...).
It at all possible, please send only PDF files
Please note that we usually need the print order at least 24 hours (1 working day) *before* the desired collection date.
Posters to be laminated, need to be sent at least 2 working days in advance.
Depending on the order or order situation, however, noticeably longer processing times may result.
Additional tips:
Please note that printing posters in formats other than the DIN formats involves a lot more effort and therefore needs considerably more time.
As a rule, we require a PDF file for printing. Other file formats require prior arrangement.
Microsoft Office programs allow ( since Office 2010) direct saving in PDF format.
Please take care to set the desired page format (usually A0) when creating the PDF file.
The dimensions of DIN page formats can be found, for example, at http://www.din-formate.de/reihe-a-din-groessen-mm-pixel-dpi.html; here, only the dimensions of a page in DIN A0 are given as an example:

width: 841 mm
height 1189 mm

You will considerably help us to  cut your printed/laminated poster, if it has a surrounding frame or cutting marks.
Cost calculation
For the printout of an A0 poster we charge your working group 10,- EUR, while the lamination costs 5,- EUR.
For smaller posters the costs are reduced accordingly.
Other printing materials than paper (photo paper, fabric, canvas, roll-ups) are possible, but result in higher costs (info on request).
At the turn of the year, the printing and laminating costs accrued in the previous year will be invoiced to your cost centre. Your yearly allocation will be reduced accordingly. On request, we will be happy to send you a detailed overview of the printing and lamination work we have done for you.
---